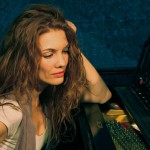 Neues
Neuigkeiten:
Es ist vollbracht!! Alle Aufnahmen meines neuen Studioalbums sind im Kasten. Jetzt müssen sie alle noch gemischt und gemastert werden, damit es auch für alle Ohren und auf jedem Gerät ja gut klingt. Dies dauert noch ein kleines Weilchen, ebenso wie die Grafik, die auch gerade in Arbeit ist. Eines kann ich euch schon sagen. Es ist einfach prachtvoll geworden!! Bin megastolz drauf, was meine Superduper-Produzentin Sitara Schmitz und ich da so geschaffen haben. Als Titel trägt diese CD das Sanskrit Mantra "Soham", welches eine wunderschöne Bedeutung hat; "Ich bin DAS" oder "Ich bin, der ich bin". Ebenso ist es der Klang des Atems. Der wiederum mit Gesang, weiters mit dem Klang und darüber hinaus mit der Schwingung verbunden ist.
Manche von euch wissen, dass ich auch Yogalehrerin bin und sehr lange unterrichtet habe, bevor ich mich der Musik widmete bzw. auch fast zwei Jahre in einem Ashram gelebt sowie gearbeitet habe. Ganz haben mich diese Gesänge, Lieder nie losgelassen, deshalb dachte ich, lasse ich doch all meine Lieblingschants und – mantras in eine CD fliessen. Nun kommt alles zusammen, Singer-Songwriting, Chants, Mantras und Weltmusik. Hurra, es lebe die Vielfalt!! Du kannst meine Musik und die Künstlerarterhaltung am allerbesten unterstützen, wenn du immer direkt auch beim Künstler bestellst.
Einige feine Seminare und Workshops rund um Gesang, Musik, Yoga, Tanz und Bewegung allgemein, biete ich in diesem Jahr an und es werden mehr. Näheres hierzu unter dem Menüpunkt "Workshops/Seminare". Guck doch mal, ob davon ein Agebot in deiner Nähe ist.
Inzwischen habe ich meinen Werdegang im Menüpunkt Seminare/Workshops hinzu gefügt, da einige gefragt haben, wie ich denn nun plötzlich auf Tanz und Bewegung komme. Scroll ganz hinunter, wenn es dich interessiert 🙂
Beständig kommt bei den Terminen etwas Neues, Spontanes dazu. Wie meine Kollaboration mit The Love Keys, einer gut befreundeten Mantra-und Kirtanband. Wenn du auf dem Laufenden sein möchtest, trage dich gern in den Newsletter ein. Bist du an einer Zusammenarbeit mit mir interessiert? Möchtest du z.B. ein feines Wohnzimmerkonzert oder einen Workshop bei dir organisieren? Dann schreib mir gerne, ich freu mich! So und nun war's das erst mal wieder mit den Neuigkeiten…..alles Liebe für dich, und, ganz wichtig, genieße soviel du kannst, Cataleya
news:
A warm Welcome to my homepage, great news and thrilling events are on the schedule!
The recordings for my 4th album are finished. Yeeees! They are ready for mixing and mastering, which will take a little while as we want to make sure that all the songs sound great on every device. This project already has as subtitle "Chants & Mantras" and the name says it all. And I am so proud of it, I guess you've never heard Mantras clad in music like this. Some of you know that I am a passionate yoga teacher, pilates trainer as well as a trained instructor for integrative dance and movement education. Before I dedicated fully to music I worked for more than ten years in these fields. Some of you may also know that I lived and worked in an Ashram for about two years. Because chants and mantras always accompanied me since, I thought of putting my favourite ones into a new album. Now all comes together, singer-songwriting, chants, mantras, worldmusic…. Hooray, long lives diversity! If you really like to support me, my existence as an artist with all my creative work, you best order directly from me, the artist, thank you 🙂
As you already know, I offer workshops and teachings again, apart from playing beautiful concerts and musical supports for events, retreats as well as seminars. My workshops are about voice, yoga, dance and movement in general. I used to teach full-time in these fields over many years before I paused to give full space to my music, singing, composing songs and learning my instruments. And now I'm totally looking forward to give and share all that I experienced and learned in these past years. There already are some seminars or rather workshops on my schedule as well as concerts and for sure, there will be more. So you're warmly invited to join in 🙂 if you are interested in a collaboration with me, for example you'd like to organise a concert or a workshop, please write me!
There always happen some new gigs or new projects with other beautiful souls. So stay tuned and have a look. Alright, that's all for now, enjoy as much as you can! With love, Cataleya
Alle Events