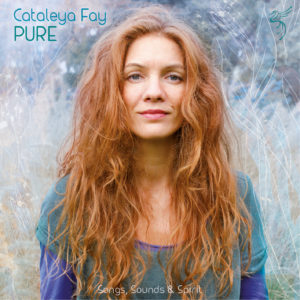 PURE
Pure – ist das dritte Album von Cataleya Fay, auf dem sie sich ihren Wunsch erfüllt, ihre Songs ganz nah, intensiv, ehrlich und back to the roots zu präsentieren. Nur mit Stimme, Gitarre, Klavier, Bansuri Flöte, etwas Cello sowie hier und da ein paar kleine "Soundstreusel" entsteht in dieser in Musik gegossenen halben Stunde eine bezaubernde Wohlfühlatmosphäre vor knisterndem Kaminfeuer. Wobei die reiche Palette an Gefühlen von romantisch, kuschelig bis rhythmisch und kraftvoll, gewürzt mit tiefgehenden Lyrics, eindrucksvoll bedient wird. Weniger ist manchmal mehr.
* zum Bestellen/Download auch bei Amazon und iTunes *
Artist: Cataleya Fay
Album: PURE
Label: Electromantica
Cat.Nr.: EM 1002
VÖ: 1. Dezember 2016
Kategorie: Pop/ Folk
www.electromantica.com
PURE
Pure is Cataleya Fay's third album where she fulfills a long-held desire to present her songs in a very intimate, honest and intense way –  going straight back to her singer-songwriter roots. With  her  beautiful voice accompanied only by guitar, piano, bansuri flute, some cello lines and a few little "sound crumbles" here and there, an enchanting feel-good atmosphere arises, carrying the listener to the front of a warm crackling fire – a half an hour's duration of pure magic cast in music. Despite it's simplicity, this song collection is enriched with profound lyrics and carries the listener through a broad range of emotions from romantic and cosy to rhythmical and powerful. Served impressively – it's true that less is sometimes more.
* available on Amazon and iTunes*
Artist: Cataleya Fay
Album: PURE
Label: Electromantica
Cat.Nr.: EM 1002
Published: 1st December 216
Categorie: Pop/ Folk
www.electromantica.com
Bestellen bei Cataleya
iTunes
Amazon
---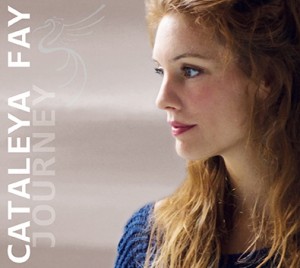 Journey
Das Album Journey ist definitiv eine Reise in viele, neue musikalische Dimensionen. Intim und ergreifend, aber dennoch mit verspielter Leichtigkeit. Du findest ganz puristische Arrangements, die nur auf Klavier oder Gitarre mit Cello basieren, als auch Songs, die weltmusikalisch beeinflusst sind, bis hin zu Tracks mit Elementen aus Soul, R'n'B, Rock und Elektronik.
Bereichert mit wunderbaren Instrumenten wie der Sitar, Bansuri Flöte, Lap Steel Guitar, Native American Prayer Flute, Synthesizersounds, Drums, E-Piano, Kontrabass und Violine.
Erschienen ist das Album bei dem jungen Kölner Label Electromantica, das von  Sitara (selbst Singer/ Songwriter, die auch das Album Journey produziert hat) und Henning Schmitz (Mitglied bei den Elektropionieren Kraftwerk) gegründet worden ist. Beide Labelmacher treten auch als Gastmusiker auf Cataleyas Album auf, das maßgeblich in deren Kölner Studio X.1 aufgenommen und gemischt wurde.
* zum Bestellen und Downloaden auch bei Amazon und iTunes *
Artist: Cataleya Fay
Album: Journey
Label: Electromantica
Cat.Nr.: EM 1001
VÖ: 1. Mai 2015
Kategorie: Pop/ Folk
www.electromantica.com
Journey
Cataleya's second album Journey definitely takes you on a journey into many, new musical dimensions – intimate and poignant, but with playful ease. Journey features songs based on piano or guitar and cello only, as well as songs that are musically influenced by worldmusic, or feature elements of Soul, R & B, Rock and Electronica.
Instruments like sitar, lap steel guitar, bansuri, native american prayer flute, synthesizers, drums, electric piano, double bass and violin enrichen the sound spectrum.
Journey is released on the new Cologne label electromantica which has been founded by Sitara (herself a singer / songwriter, who also produced the album Journey) and Henning Schmitz (member of the electro pioneers Kraftwerk).
Both label owners also appear as guest musicians on Cataleya's album, which was recorded and mixed at Cologne's Studio X.1, which is also owned by Sitara and Henning Schmitz.
* available on Amazon and iTunes*
Artist: Cataleya Fay
Album: Journey
Label: Electromantica
Cat.Nr.: EM 1001
Published: 1st May 2015
Categorie: Pop/ Folk
www.electromantica.com
Bestellen bei Cataleya
iTunes
Amazon
---