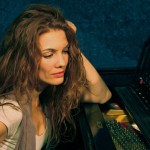 Neues
Neuigkeiten:
Die Aufnahmen für mein 4. Album laufen wunderbar, es werden 11 Stücke auf der Platte sein! Dieses Projekt trägt als Untertitel "Chants & Mantras" und ist Programm. Manche von euch wissen, dass ich auch Yogalehrerin bin und sehr lange unterrichtet habe, bevor ich mich der Musik widmete, bzw. auch fast zwei Jahre in einem Ashram gelebt sowie gearbeitet habe. Ganz haben mich diese Gesänge, Lieder nicht losgelassen, deshalb dachte ich, lasse ich doch all meine Lieblingschants und – mantras in eine CD fliessen. Nun kommt alles zusammen, Singer-Songwriting, Chants, Mantras und Weltmusik. Hurra, es lebe die Vielfalt!! Du kannst meine Musik am allerbesten unterstützen, wenn du immer direkt beim Künstler bestellst.
Seit letzem Jahr unterrichte ich auch wieder, es bereitet mir große Freude, so gibt es einige feine Seminare und Workshops, alles rund um Gesang, Musik, Yoga, Tanz und Bewegung allgemein, und es werden mehr. Näheres dazu findest du hier auf meiner Webseite unter dem Menüpunkt "Seminare/Workshops". Inzwischen habe ich dort auch meinen Werdegang hinzu gefügt, da einige gefragt haben, wie ich denn nun plötzlich auf Tanz und Bewegung komme.
Schau doch auch mal auf meine Termine, da kommt immer wieder was Neues, Spontanes dazu. Wenn du an einer Zusammenarbeit mit mir interessiert bist, dann schreib mir! So und nun war's das erst mal wieder mit den Neuigkeiten…..alles Liebe für dich, und, ganz wichtig, genieße soviel du kannst, Cataleya
news:
A warm Welcome to my homepage, great news and thrilling events are on the schedule!
The recordings for my 4th album run simply wonderful and succesful! This project already has a subtitle "Chants & Mantras" and the name says it all. Some of you know that I am also a passionate yoga teacher and trained instructor for integrative dance and movemnet education. Before I dedicated fully to music I worked for more than ten years in these fields. Because chants and mantras always accompanied me since, I thought of putting my favourite ones into a new album. Now all comes together, singer-songwriting, chants, mantras and worldmusic, Hooray, long lives diversity! If you really like to support me and my music, you best order directly from me, the artist, thank you 🙂
As you already know, I offer workshops and teachings again, apart from playing beautiful concerts and musical supports for events, retreats as well as seminars. My workshops are about voice, yoga, dance and movement in general. I used to teach full-time in these fields over many years before I paused to give full space to my music, singing, composing songs and learning my instruments. And now I'm totally looking forward to give and share all that I experienced and learned in these past years. There already are some seminars or workshops on my schedule as well as concerts and for sure, there will be more, so you're warmly invited to join in 🙂 if you are interested in a collaboration, please, write me!
There always happen some new gigs or new projects with other beautiful souls. So stay tuned and have a look. Alright, that's all for now, enjoy as much as you can! With love, Cataleya
Alle Events
Termin Informationen:
16:00 - 18:00

Anjali Yoga, Maxstraße 23, 22089 Hamburg-Eilbek (im Hinterhof)

Yogastunde mit Musikalischer Live-Begleitung. Yogastunde angeleitet von Lisa Wolk, musikalisch begleitet von Cataleya Fay.

Für genaue Infos, Tickets etc. klick hier: Anjali Yoga Hamburg